A single pane of glass and network source of truth for all your network data.
FusionLayer Infinity brings all things in your network into a single pane of glass for unified management and provisioning. It acts as the single network source of truth, replacing spreadsheets and traditional IPAM systems
FusionLayer Infinity helps eliminate network downtime. Its powerful automation capabilities make scaling your network more manageable, faster, and safer.
Unified management and provisioning.
Patented.
FusionLayer Infinity features patented technology for unified management and provisioning for all-things-network.
The solution integrates with virtually any third-party orchestrator through its REST API, allowing you to bring all your networks under control with superior visibility.
On-premise, in the public clouds, and at the cloud edges.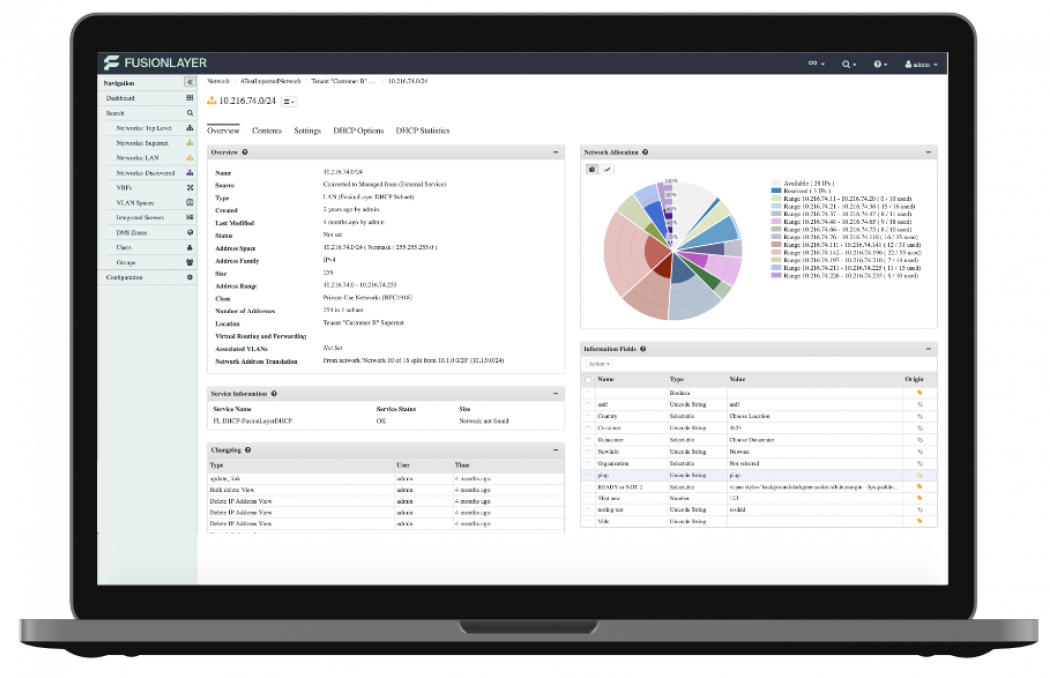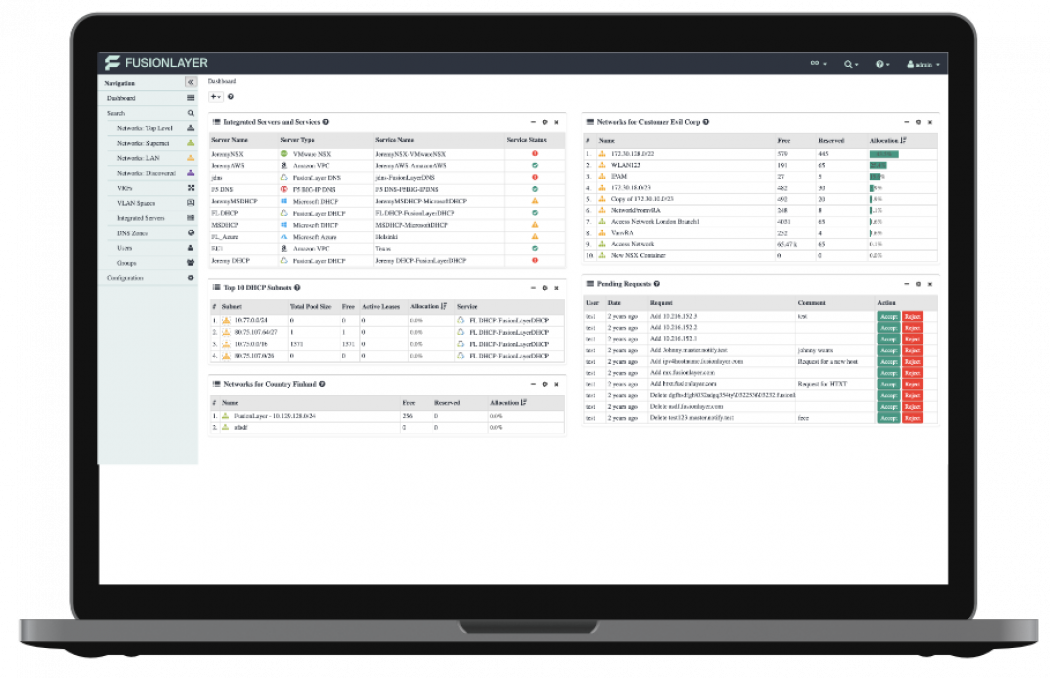 Features at a Glance
Unified management system for:
network spaces and subnets (L3)

VLAN spaces and VLANs (L2)
IP addresses, DHCP and DNS
VRFs, NATs, policies, and attributes
Role-Based Access Control (RBAC):
enforced for GUI and API users

centralized authorization
centralized authentication
comprehensive audit trail with undo
LDAP, RADIUS, PAM supported
cloud-based IAM such as Okta
Powerful REST API for automation:
read, reserve, and release networks

read, reserve, and release VLANs
read, reserve, and release IPs
read, write, and exchange policies
read, write, and exchange configs
Scalable and flexible:
up to 100,000 networks

5,000+ overlapping /10 spaces
millions of IP addresses
dozens of VLAN spaces
configurable data structure
accessible via GUI and REST
Deployed as a secure software appliance:
clustering for high availability (HA)

integration with NOC, IAM, and SIEM
controlled runtime, security built-in
Plug-and-play integrations with:
FusionLayer DNS and DHCP

Microsoft DNS and DHCP
F5 BIG-IP DNS
VMware Edge DHCP
Amazon Web Services
Microsoft Azure
OpenStack (Red Hat, Nokia, etc.)
VMware infrastructure
container infrastructure
Ansible, SALT, Puppet, and more
Benefits
Network source of truth for automation:
eliminate network downtime

reduce operating expenses (OPEX)
slash service activation lead-times
Streamline operational processes:
single pane of glass for network data

on-premise, public cloud, and edges
self-service via delegations and REST
Added security for peace of mind and compliance:
state-of-the-art security architecture

alignment with existing processes
all network data in a secured system
Collaterals
Case Studies & White Papers: